We have recently collaborated with
Kitenge Store
, an ethical fashion brand and social enterprise.
Their highly skilled master tailor, Abdallah, lovingly handcrafted our colourful, and unique
African print fabric

bathrobes

using
their authentic, 100% cotton,
African wax print fabrics
in Tanzania, East Africa
.
Our limited-edition collection also features gorgeous bathrobes handmade using Tanzanian
Kanga
fabrics.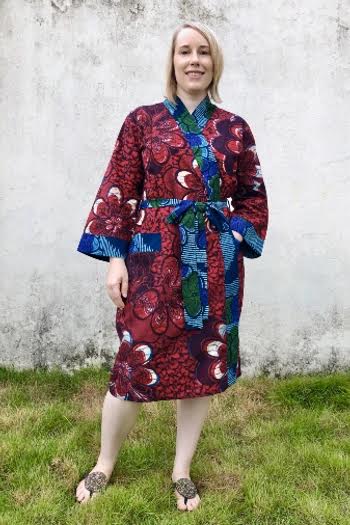 Our unique African print fabric bathrobes are handmade in Tanzania in partnership with Kitenge Store.


Continue reading to learn more about Kitenge Store's ethical and sustainable clothing and their online made to measure clothing service!
WHY KITENGE STORE PRODUCES ETHICAL CLOTHING IN TANZANIA
Kitenge Store was founded by female and social entrepreneur, Sian Masawe, in 2014 after she volunteered in Tanzania for a youth-led development charity delivering career workshops in colleges and universities. Sian lived with a local host family in Dar Es Salaam, Tanzania, and they taught her a great deal about Tanzanian culture, customs, traditions, and the Swahili language.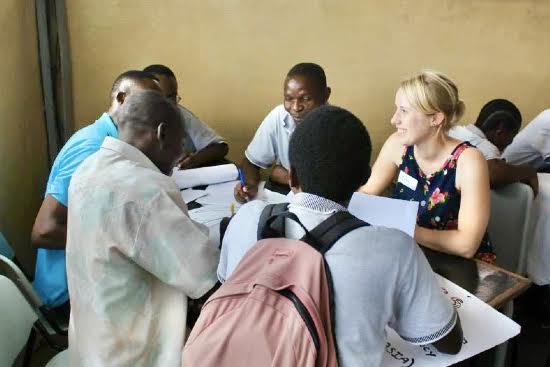 Kitenge Store Founder, Sian, delivering a CV workshop at a college in Tanzania.
During the first evening with her host family, Sian's Tanzanian Mama gave her a pair of Kanga fabrics as a gift to wear in the house as a wraparound skirt or dress when cleaning, cooking, and showering. Kangas are versatile fabrics that have many different uses. Sian's Mama also introduced her to the brightly-coloured African wax print fabrics which local tailors use to create fashionable outfits.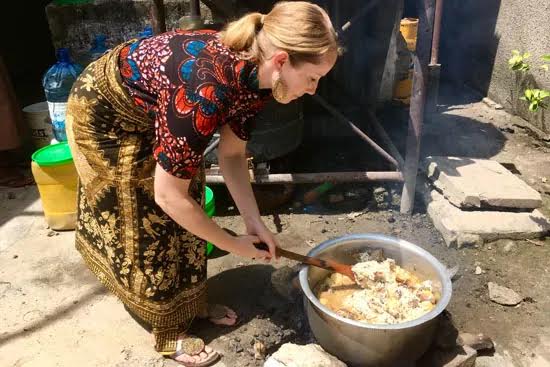 Kitenge Store Founder, Sian, cooks traditional Tanzanian food wearing African print clothing and Ankara fabric.

Sian previously worked in the fashion industry in the US and UK after studying fashion business at The Fashion Institute of Technology (F.I.T) in New York City and Nottingham Trent University in the UK. However, during her time working in the fashion industry, she was shocked and dismayed by the way unethical practices at garment factories in the Far East were handled and often ignored. It caused her to lose interest in the global fashion industry so she decided to leave her job and volunteer in Tanzania.
Shortly after leaving her fashion job in London, the Rana Plaza building in Bangladesh collapsed in April 2013 injuring 2,500 people and killing over 1,100 people (mostly female garment workers that produced clothing for global fashion brands). This encouraged Sian to join the
ethical fashion
movement as nobody should die for fashion.
Using her experience, Sian decided to set up a local supply chain in Tanzania that empowered tailors to improve their livelihoods and supported small businesses and communities at the same time. In 2014, Sian returned home to the UK to sell Kitenge Store's first clothing collection at local markets which later changed to large music festivals. In Tanzania, their master tailor,
Abdallah
, opened his own workshop in 2016 using the profits he made from their orders. Abdallah has also been able to purchase new sewing machines and land so he can build a family home of his own.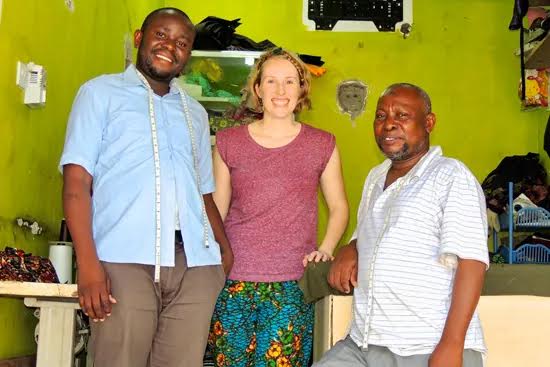 Kitenge Store Founder, Sian, (center) visiting Abdallah (right) and his apprentice, Hassan,
(left) at his workshop in Tanzania.
KITENGE STORE'S ETHICAL AND SUSTAINABLE VALUES
Kitenge Store strongly believes that every garment worker and artisan should be paid fairly, treated with respect and dignity, and work in a safe environment. They provide employment and training opportunities for Tanzanian people and support their tailors to set up and grow their businesses, which gives them job security and financial stability. Transparency is very important so they regularly share behind-the-scenes footage of their tailors online via their
blog
and
social media
.
Learn more about Kitenge Store's ethical and sustainable clothing.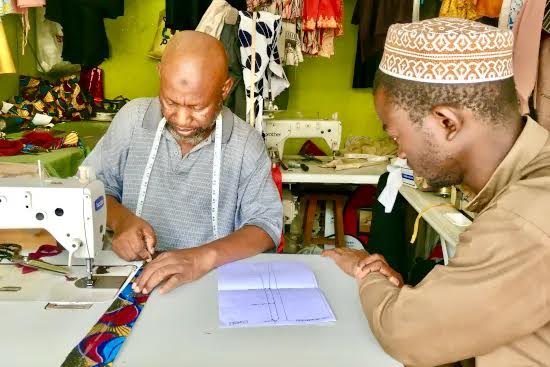 Kitenge Store's master tailor, Abdallah, teaches his apprentice, Maguta, how to make an African necktie.
WHY IS MADE TO MEASURE CLOTHING A SUSTAINABLE FASHION CHOICE?
After four years of successfully selling off-the-peg African print clothing worldwide to customers online and at UK music festivals, Sian discovered a more sustainable way to produce garments. By switching to
made to measure clothing
production, Kitenge Store no longer needed to hold large amounts of stock. The garments are made to order and
fit perfectly
which flatters their customers unique body shapes. Kitenge Store produces quality, tailored garments that are made to last.
Learn more about the many benefits of made to measure clothing.
HOW DOES KITENGE STORE'S ONLINE MADE TO MEASURE SERVICE WORK?
Kitenge Store produces
men's African print clothing
and
women's African print clothing
including
colorful African shirts
,
plain-colored shirts
with optional African print contrasts, trendy
African print pants
, and board
shorts
.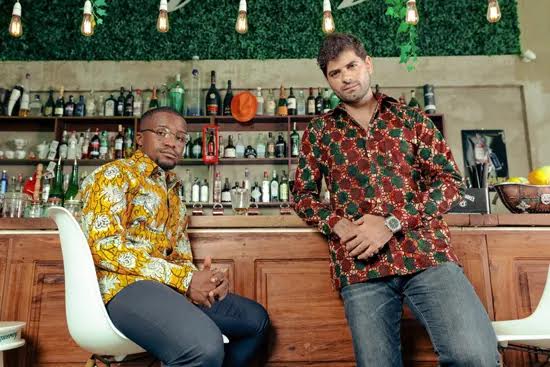 Kitenge Store's African print shirts for men.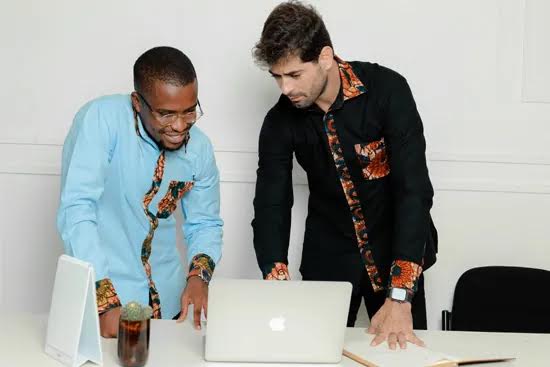 Kitenge Store's plain colored shirts with optional African print contrasts.
To place an order, choose your favorite fabric and measure a shirt, pair of pants or shorts that fit you well at home by following their
simple instructions
. Then choose your preferred design elements (optional), such as the collar or cuff style, to suit your personality. You can also decide if you would like your pants or shorts to have pockets and a drawstring tie for the elasticated waistband.
Kitenge Store also produces African inspired accessories including stylish
African headwraps
,
African neckties
,
African print bow ties
and matching
pocket squares
. African accessories are the perfect way to add interest to a plain colored outfit and they make great gifts with a story to tell.
AFRICAN PRINT FABRIC SHOP


Kitenge Store's colorful African wax print fabric collection.
Kitenge Store's high-quality, authentic African wax print fabrics are made in Nigeria using locally-grown cotton. The fabrics are locally sourced in Tanzania from small female-owned enterprises. Their bold and vibrant fabrics can be purchased
by the yard
(1 to 6) and they also sell
fat quarters
leftover from production, for arts, crafts and
sewing
projects, to minimize waste.
Explore 20 fabric items to make at home
using beautiful Kitenge/Ankara fabrics.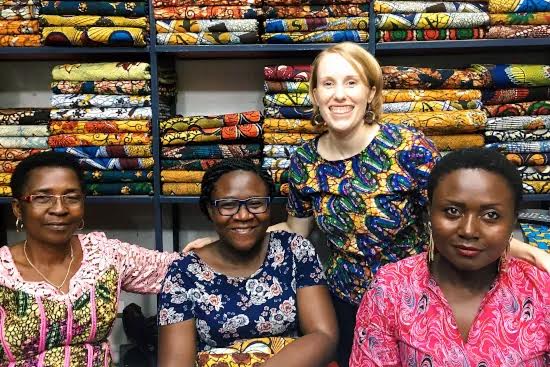 Kitenge Store's Founder, Sian, visiting her fabric supplier in Tanzania.
SEWING SCHOOL FOR DISADVANTAGED TANZANIAN WOMEN
Kitenge Store's exciting plans for the future include opening a sewing academy for disadvantaged Tanzanian women. Sian would like to ensure equal opportunities are provided for women as the majority of tailors in Tanzania are male. The aim of the school is to empower Tanzanian women to become highly-skilled tailors and successful entrepreneurs. Profits from Kitenge Store, a social enterprise, will help to fund the sewing school so the education and courses provided are free of charge. Upon graduation, the students will have the opportunity to work with Kitenge Store, start their own businesses with financial support from the school, or apply for suitable jobs within the Tanzanian textile industry.
Visit Kitenge Store's
African boutique online
to browse their colorful clothing and fabric collections and get 10% off your first order when you
subscribe
to their newsletter!